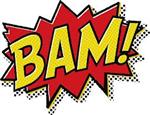 I have just submitted my comments on the Clary Lake Assessment (minimum flows recommendation) which was one of the two documents included in the ADDENDUM to the bathymetric survey released by the Department on 09 April 2013. I'm not sure my comments are really worthy of a BAM! thumbnail but it seemed appropriate. This is the 3rd submission this week. A short 3-word summary of my position on the new Clary Lake Assessment: Almost Good Enough:
Petitioner's Comments on Clary Lake Assessment (minimum flows recommendation)
Here's the revised Clary Lake Assessment if you want to follow along. The other document in the release were comments by the Maine Emergency Management Agency regarding their hazard classification of Clary Lake dam. I wasn't going to submit comments on them, but they've sure got Paul Kelley's undies in a bunch so maybe I'll take advantage of the 30 extension to the comment period and write something up.