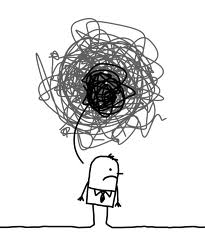 Yet another Lincoln County News article in this week's paper, this one by Dominik Lobkowicz about last Tuesday night's Whitefield Selectmen's meeting. Good article. Worth reading. I was at that meeting along with Sue McKeen. We didn't talk, we just listened. The theme of this post is "Confusion" which is what that thumbnail at left is supposed to represent. The article isn't online so I scanned it and the photo of Mr. Kelley didn't come out too well. Sorry.
Whitefield selectmen to look into so-called flowage rights
There's really nothing confusing about it. At issue is whether anyone in their right mind would want to own a dam without also owning the right to flood upstream property that they don't own. If you owned a dam without also owning the flowage rights, why you could find yourself being sued by any one of a 108 lake shore property owners (or all of them) for flooding their property without the right to do so. It's really simple. If you own a dam, you need the flowage rights. And DEP agrees. And so does the AG.