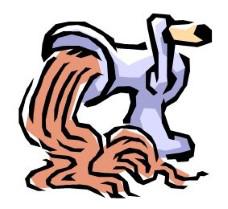 After attorneys with PretiFlatherty representing the dam and mill owners failed to produce a plan to repair the Clary Lake dam by last week's June 1st deadline, people were concerned that they had come to some agreement with DEP to give them more time to respond. Also, the current Stay on the Proceedings in Superior Court ran out on June 1st as well, and we've all been wondering if another stay was going to be granted which would further delay the resumption of court action. With a Status Conference in Superior Court with Judge Billings scheduled for June 7th, we didn't have long to wait for answers. I spoke with Assistant Attorney General Scott Boak this morning about what happened at yesterday afternoon's Status Conference and he said there was no agreement between Preti and DEP going into the meeting, and the proceedings have NOT been stayed. Neither the State nor the Judge are interested in further delays.
Attorney Boak made it clear that the State's position going into the meeting was that they want Water Level Order appeal to proceed while at the same they are willing to leave the door open to allow Preti to come up with a plan for Kelley and Smith to repair their dams and bring the Clary Lake dam's operation into compliance with the Water Level Order. While we don't know the details of discussions that have been taking place between PretiFlaherty and DEP, one could guess that the main obstacle at this point would be financing the dam repairs. I would add that nobody has contacted the Clary Lake Association to see if we would be willing to help fund repairs to the dam.
So court action on the Water Level Order appeal resumes, albeit at a leisurely, summer pace. Attorney Boak said the State will be filing their Record Findings with the court and that they will be discussing with PretiFlaherty attorneys issues surrounding Discovery i.e., what should be allowed, what shouldn't be allowed. It wasn't clear to me if there will be an Order written by the Judge detailing the results of yesterday's Status Conference but if there is, it probably won't be till next week. The next court appearance is anticipated to be in mid-August and I'm sure there will be additional updates between now and then.