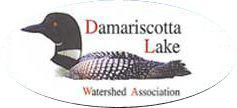 Jack Holland forwarded me a copy of a Damariscotta Lake Watershed Association (DLWA) notice about an upcoming workshop they're giving intended to train volunteers to identify and categorize Non-Point-Source (NPS) pollution sites. The end goal is performing a Watershed Survey for Damariscotta Lake, a truly daunting task give the size of Damariscotta Lake's wateshed. The Clary Lake Association performed such a watershed survey for Clary Lake back in 2001 (see our Clary Lake Watershed Survey Basemap) and at last year's Annual Meeting we formed an ad-hoc committee to work to update that survey in the near future.  Some of our NPS committee members will need some training too so I've written to Garrison Beck to see if we can participate in the training. I'll let you know what I find out. Here's the email notice:
---
Do you want to help protect the water quality of Damariscotta Lake? Then join us on Saturday, April 26th from 9am – 3pm at DLWA for training needed to be part a team that will find and locate harmful sources of pollution.   
After the training, you will work with DLWA staff and other volunteers to conduct a complete survey of the Damariscotta Lake Watershed looking for sites of non-point source pollution. In brief, non-point source pollution is all pollution in the watershed that cannot be attributed to a single point (ex. a pipe). This pollution comes mostly in the form of erosion and runoff from the land, which carries nutrients such as phosphorus and nitrogen into the lake and its tributaries.
Our watershed is over 30 square miles and we need your help! Your job would entail walking the near-shore area on Damariscotta Lake and driving watershed roads looking for sites of erosion and runoff. Our goal is to complete the entire survey within one month of the training!
If you are interested in attending the training or assisting in any other way, please contact Garrison Beck at 207-549-3836 or garrison@dlwa.org.
---