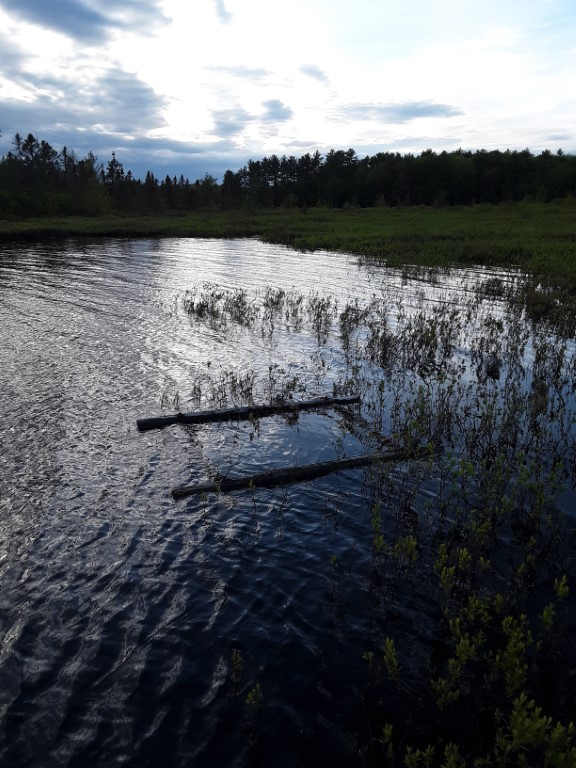 Back in the spring of 1999 Bob Antognoni and Art Enos built a floating loon nest platform and installed it at the back of the deep cove on the north shore where our loons have traditionally liked to nest. There is no record of whether or not the loons ever used it for a nest site though it's entirely likely. I've looked for the nest off and on over the years and have figured it was long gone. Imagine my surprise when I was out and about yesterday evening to see if I could find where the loons are nesting this year, and spied something floating. I rowed closer and sure enough, the loon nest is still floating after 21 years! Even the wire screen that supported the nest area is still intact. I believe it was constructed out of dry peeled cedar and bolted together with galvanized carriage bolts. Clearly it was built to last! Bob would no doubt be glad to know it has survived this long.

Here's a picture that Bob Antognoni took when they put it in. Bob's remark to me when he gave me the photograph was that "turtles really loved it." And finally, one more of Bob putting out one of the Loon Nesting signs that he and Ed Grant built. Those signs have been in my possession for a few years but have pretty much fallen apart. We need some new ones! FYI We've seen a lot of loons this year, I spotted 4 in a tight group off my shoreline last night and 2 more down by the boat launch. We're still looking for this year's loon nest however,

they are almost always sitting on eggs by the first of June but so far we've not been able to spot the nest. It's possible that with the cold and late spring we've been experiencing that they too are "running late" and haven't nested yet, but I'd be surprised. More likely their nest is well hidden. With the stable lake level it's even possible they're nesting out in the marsh somewhere, in which case we'll likely never find the nest.
If you happen to spot the loon nest, please let me know.