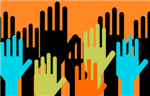 We had a good meeting of the Clary Lake Association yesterday, reasonably well attended though I had expected a somewhat larger turnout given how much we promoted the meeting. I remain somewhat chagrined that so many Clary Lake shore owners either aren't interested in joining the Association or just can't be bothered. I'm also surprised that some folks actually show up for the meetings, but are still unwilling to join! What's up with that? The Clary Lake Association is dedicated to preserving, protecting, and enhancing the natural beauty, and quality of Clary Lake and its watershed. Everyone who owns land on Clary Lake should be a member, without exception.
The membership unanimously voted to adopt the Proposed Revised Bylaws. After the work the Bylaws committee put in on them over the past year, it would have been disheartening to say the least if they had been rejected! Furthermore, we got some good feed back from the membership to guide the Bylaws committee in revising the Membership and Voting Rights language to be voted on at next year's meeting. I'll finalize the newly adopted bylaws and post them on the website as soon as I get a round tuit.

We now have 2 new Board members serving 3 year terms, Cheryl Ayer and Sue Mckeen. The Board may appoint an interim board member to serve for one year to bring us up to full capacity, as well as extend two existing board member terms for 1 year to facilitate our transition from 5 board members with 2 year terms to 7 board members with 3 years terms, as provided for in our newly adopted bylaws. It's all good.
Many thanks to Garrison Beck, Senior Program Manager of the Damariscotta Lake Watershed Association for his interesting and informative presentation on conducting a watershed survey; we will benefit from his experience when we get going on updating our own watershed survey, hopefully this coming fall. Also many thanks to Ellis Percy and Joann Tribby for the use of their lovely home for the meeting.
At one point I took off my Secretary hat and put on my Petition Spokesperson hat and spoke about the current status of the Clary Lake water level order, the mediation process, and Kelley's dead-in-the-water Petition for Release from Dam Ownership or Water Level Maintenance.
It'll all be in the minutes, which I'll get worked up and posted as soon as I can. In the meantime, whoever made the Lemon Zucchini Bread, there are a few people who would like the recipe 🙂