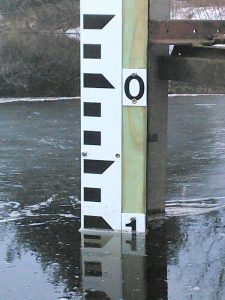 We have received provisional approval of our Water Level Management Plan [WLMP] from the Maine Department of Environmental Protection. The WLMP details the procedures we'll be following to operate the Clary Lake dam and manage the water level so as to remain in compliance with the Clary Lake Water Level Order [WLO]. The completion of a management plan was the final requirement of the WLO and it's good to have this task behind us. This first season is like a shakedown cruise: we'll be sitting down with DEP staff next winter to review the plan to see how well it's met everyone's needs.
Work on this plan has been underway since last fall. In early January we met with a Senior Environmental Engineer at DEP to go over some of the technical aspects of the WLO and we finally sent a draft version of the plan to DEP for review and comment in late-January. Based on DEP's comments to that draft plan, minor revisions were made and a proposed final plan was sent to DEP for review on April 1st. We received a letter dated April 25, 2019 granting provisional approval of the plan:
WLMP-DEP-Approval-Letter-04-25-2019.
From the approval letter:
"The WLMP as presented satisfies the requirements of C.M.R. 06-096 ch. 587, Instream Flows and Lake and Pond Water Levels, which guide the management of water levels and flows for Class GPA waters so that they protect natural aquatic life and other designated uses and characteristics associated with the applicable water quality classification."
The WLO specifies that the WLMP should be made available to "all littoral and riparian landowners" for review upon request and furthermore that "a copy of the final plan shall be distributed to the Town of Jefferson and the Town of Whitefield." We're making it even easier to get a copy: the WLMP is freely available for download from this website by the general public. The current version is dated April 1, 2019:
For future reference you'll find a link to the WLMP near the top of the side bar on the right side of most pages on this site, as well as a link to the document under the Charts & Data main menu heading. Seeing as how this WLMP details how we'll be implementing the new water level regime, the CLA Board strongly recommends that everyone with a vested interest in Clary Lake review this plan. If you have any questions, please do not hesitate to contact us.
The newly formed Dam Operations Committee will be responsible for operating the dam on a day-to-day basis. We got this!