We've setup a new Shopping Cart system using Paypal as our payment processor. We're still in setup mode but everything should be working so if you want to buy something, go ahead! For now, if you're interested in something we have to offer, email me regarding availability.
Clary Lake Depth Maps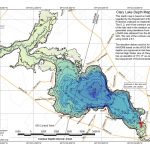 We're selling these neat 8.5″ x 11 " or 11″ x 17″ plastic laminated depth maps (version 1.4) of Clary Lake with 2′ depth contours. Some of you may remember this map being offered for sale at last summer's annual Association meeting. The map is based on data collected by the DEP during their 2012 bathymetric survey supplemented with elevation info derived from 2 meter LIDAR data obtained from the Maine Office of GIS; this extra data was used to fill in depths of shallow areas around the shore, and in the meadow area where DEP was unable to collect data. On the back side is some information about Clary Lake from the Maine Department of IF&W including fish species, area, etc., and a few pictures.
---
NAIP 2015 Aerial Photographs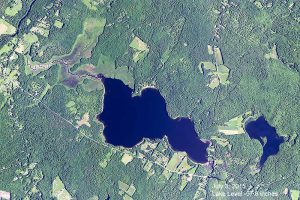 The National Agricultural Imagery Program (NAIP) periodically releases aerial photographs of the entire United States. The quality of NAIP photography has improved considerably over the years and the most recent NAIP photography for 2015 is absolutely STUNNING (see: New 2015 NAIP Aerial Photos Available). The 6281 x 3874 pixel photograph covering Clary Lake and its surroundings (shown very much reduced at left) is free to download in JPEG (19 megs) or TIFF (70 megs) formats (see the above article for links), but we're offering high quality prints suitable for framing. A portion of the purchase price goes to David Hodsdon who supplies the photo paper and does the printing. Shipping prices are subject to change.
---
Clary Lake Sweatshirts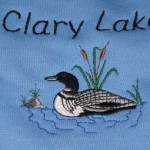 We still have a few Clary Lake Sweatshirts for sale for $15 + $10 shipping and handling. Our inventory is about gone, and we're not likely to be getting any more of these. Below is what remains of our selection and how many we have. You'll have a chance to enter a quantity on the Checkout Page.